The Support Technician appointed by SAKURA-GSR will provide technical support after implementation of the project for the mentioned maintenance-contract period.
Training:

Suitable design will be made for training materials to Client
Various training will be offered at each task completion
Convenient schedules will be made for the training
Level:
L3: Management (higher)
L2: Engineers for analysis and operation
L1: Operators and other staffs identified by the Client
The training duration will be 3 to 4 days based on the amount of work and each section 5 to 10 staff can be accommodated.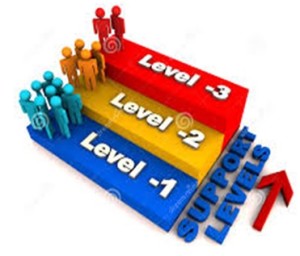 Levels for capacity building
The more powerful your software, the more there is to learn about getting the most out of it.
Without adequate training, the capability of your software is underutilized, and optimum productivity of users is never realized. SAKURA-GSR`s in-depth training significantly shortens learning curves and dramatically increases productivity.
Dedicated training brings the standard courses to a company or department. Preferred by groups who have adopted new technologies, dedicated classes focus on your organization's needs for an even more in-depth take on the open enrolment course. If an entire team of designers needs an update on the latest version of our system, dedicated training is the quickest way to get them up to speed.
Custom training is the top choice for organizations that need a more customized option than our open enrolment courses. Get training just for those features you use most, or customize our standard classes to suit your needs. We develop custom curriculum based on your needs and can teach this course at your site or at our training centre – whichever you prefer.
Process-Based education is more project-specific than software-based. The first few days are spent on basics and then we begin work on an actual project to help users with real world approaches to your specific projects and give the team a jump-start in the new software.
Over-the-shoulder consultation and follow-up while you are in production mode will resolve unanticipated issues and ensure that users are leveraging the new software capabilities and processes are running smoothly.
One-On-One training provides individuals with intensive, personalized hands-on training. Our expert will develop a course based on exactly what you want to learn, and then teach you right by your side. This is an unbeatable way to quickly learn new technology, especially if you're gearing up for a change.
Insert images/photos